The World Reimagined, a national art education project that aims to transform understanding of the transatlantic slave trade has launched in Leicester this week.
The World Reimagined will bring a trail of 10 captivating globe sculptures to the city's streets, each designed by a new or globally-recognised artist.
With themes such as 'Mother Africa' and 'The Reality of Being Enslaved', the fibreglass globes will be installed at locations including Leicester train station, the Clock Tower, the Highfields Centre and Victoria Park, where they'll help to highlight the reality and impact of the transatlantic slave trade in enslaved Africans.
BID Leicester has sponsored one of the globes, titled Reimagine The Future: From Roots to Fruit by artists Jarvis Brookfield and located at the Town Hall Square.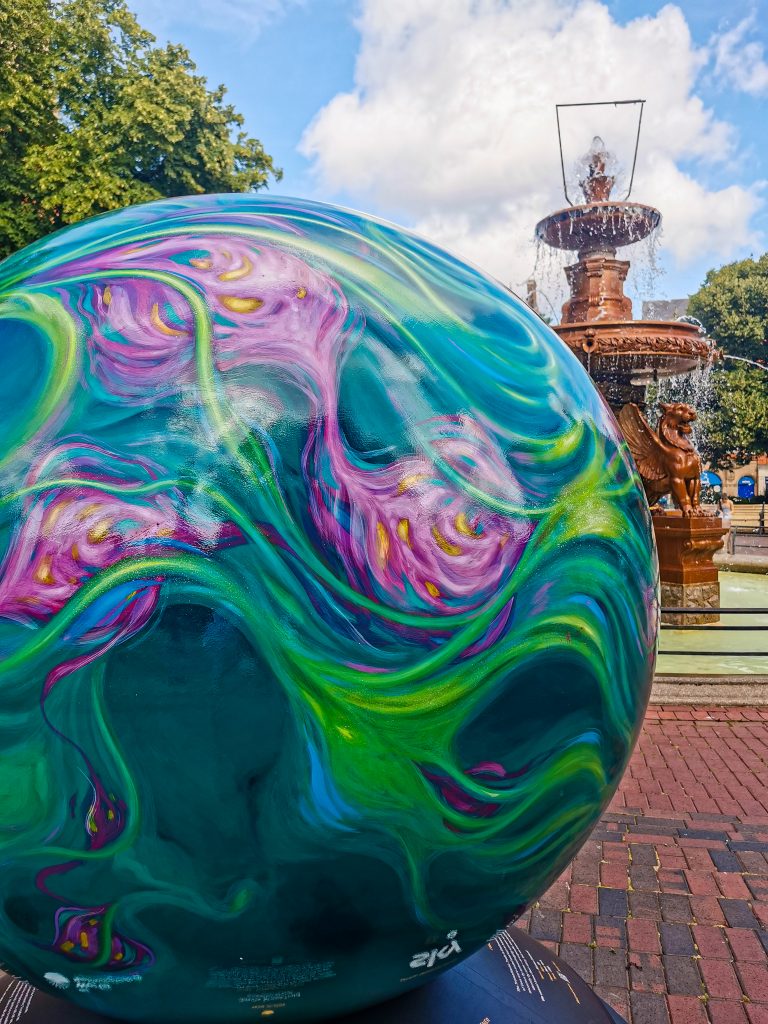 Jarvis – who had never painted on a 3-dimensional canvas before – relished the opportunity to work on a spherical shape.
"The sphere has so many connotations – evoking the earth, unity, love and life – that I loved the challenge of working with a globe for the first time," he said.
"But as someone who is bi-racial, this project gave me an opportunity to be part of a collective effort to turn the atrocities inflicted by our extended family on our ancestors into something beautiful.
"Despite the tremendous difficulties experienced by our ancestors throughout history, the human spirit continues to persevere and to rise above adversity – and that's what I wanted to communicate through my design.
"I hope my work will offer people an opportunity to reflect on the things that unite us, as opposed to what divides us, and I hope that all 10 globes will serve as a source of inspiration and learning for all the people who will be interacting with these works on the streets of Leicester."
Full details of Leicester's artists and artworks are as follows:
Natasha Muluswela: Leicester Community Globe – Victoria Park
Laura-Kate Pontefract: Mother Africa – Leicester Museum & Art Gallery (moving to Leicester train station next week)
Roy Meats: The Reality of Being Enslaved – Leicester Museum & Art Gallery
Lou Boyce: Stolen Legacy: The Rebirth of a Nation – outside Medway School
Marcus Dove: Abolition & Emancipation – Highfields Centre
Richard Rawlins: A Complex Triangle – Orton Square
Zita Holbourne: Echoes in the Present – The Clock Tower
The Mighty Creatives: Still We Rise – St Peter's Square, Highcross
Lakwena Maciver: Expanding Soul – Stephen Lawrence Research Centre, DMU
Jarvis Brookfield: Reimagine The Future: From Roots to Fruit – Town Hall Square
A QR code at each site links to a map showing the locations of all 10 globes.
Globes designed by children at Leicester schools will be on display at Curve, Highcross, Beta X and the LCB Depot from tomorrow (Friday 5 August) too.
The World Reimagined will take place in Leicester from 5 August – 31 October 2022.
It will also bring art trails to Birmingham, Bristol, Leeds, Liverpool City Region, London and Swansea this summer – with a total of 250+ schools and colleges taking part, and 2m+ visitors expected to engage with the trails.
More information about The World Reimagined is available at www.theworldreimagined.org