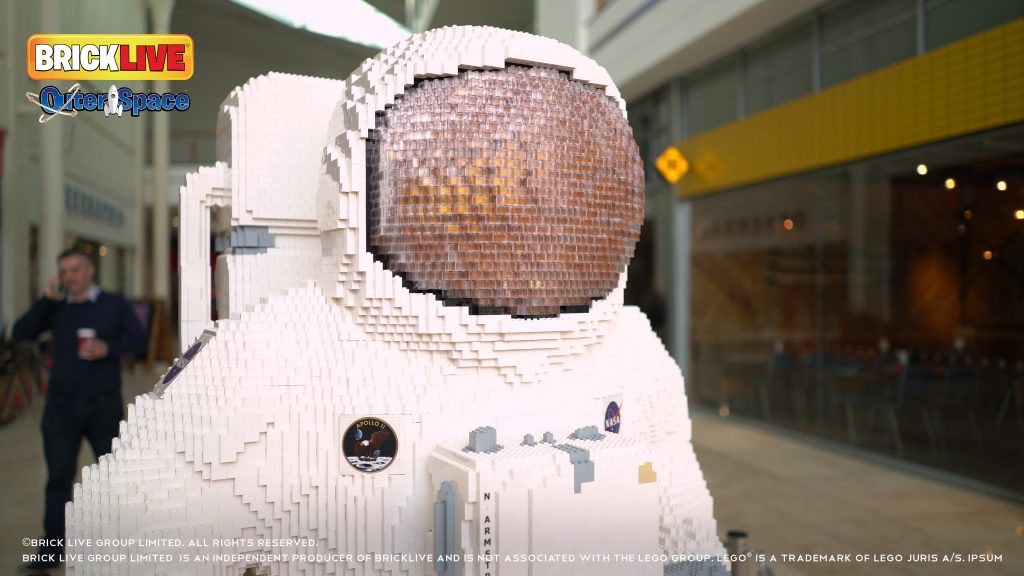 Blast off into ten days of space-themed fun this October half term with a whole programme of events to entertain children and adults alike.
One Giant Leap, which runs from 11 – 20 October, includes the return of Museum of the Moon, a trail of LEGO® brick models in the city centre, retro arcade games and a stunning outdoor projection show called Overview Effect. The special event programme has been designed to commemorate the 50th anniversary of the moon landing – and starts during World Space Week!
The out-of-this-world programme has received funding from BID Leicester, Arts Council England, Leicester Cathedral and Leicester City Council.
A highlight of the programme will delight youngsters and inspire nostalgia in older visitors; the BRICKLIVE® Outer Space Trail will bring 15 amazing models containing LEGO® bricks to venues around the city centre. Visitors will be able to see reconstructions of the rockets that took us to the moon and stand side-by-side with famous astronauts. The tallest model – the SLS Mars Rocket – stands at an incredible 314cm tall and contains over 48,000 bricks!
The models will make up a trail around the city which can be followed using the LoyalFree app. Each model will have its own unique QR code which can be scanned on the app, with a chance to win one of a selection of prizes – the more QR codes scanned, the more chances to win!
Those wishing to make an expedition to the moon can visit artist Luke Jerram's stunning 'Museum of the Moon' installation at Leicester Cathedral. Measuring a huge seven metres in diameter, the internally-lit moon sculpture features detailed NASA imagery of the lunar surface. A series of evening events including concerts, silent discos by moonlight (a children's and an adults' session), wine tasting and a talk with exhibits by the National Space Centre will add an extra dimension to the moon-gazing experience.
Throughout the week, visitors will be able to unleash their competitive side and play retro computer games inspired by the moon landings on public screens. The programme will finish with Overview Effect on 18 and 19 October in New Market Square – this breath-taking outdoor spectacle designed by arts and heritage organisation Metro Boulot Dodo celebrates the achievement of the 1969 moon landing through a psychedelic and atmospheric projection show, set to a stunning original soundtrack.
Simon Jenner, BID Leicester Director, said: "It is great for BID Leicester to be able to work with partners across the city to put on such an ambitious programme with something for everyone to enjoy. The variety and scale of the events will no doubt attract visitors to the city over the October
half term holidays and encourage them to move around the city centre to discover these exciting installations, models, games and shows in different locations."
Full details on the One Giant Leap programme can be found online at onegiantleap-leicester.co.uk

Notes:
One Giant Leap is funded by BID Leicester, Arts Council England, Leicester City Council and Leicester Cathedral, and delivered through a partnership of BID Leicester, Leicester Cathedral, Inspirate and Metro Boulot Dodo.
The BRICKLIVE® Outer Space Trail © Brick Live Group Limited. All rights reserved. Brick Live Group Limited is an independent producer of BRICKLIVE and is not associated with The LEGO Group. LEGO® is a trademark of LEGO Juris A/S.
BRICKLIVE® Outer Space models will be located throughout the city at: New Walk Museum & Art Gallery, 200 Degrees Coffee, Marks & Spencer, Phoenix, Curve, Haymarket Shopping Centre, Highcross Leicester, John Lewis, Showcase Cinema De Lux, St Martins Coffee Shop, King Richard III Visitor Centre, St Martins House. The BRICKLIVE® Outer Space trail competition can be entered by scanning the QR code at each model on the LoyalFree app. LoyalFree can be download free of charge on the Google Play and App Store. For more details, visit: www.loyalfree.co.uk/download
A full list of prizes and terms and conditions for the One Giant Leap competition can be found online at https://onegiantleap-leicester.co.uk/

Museum of the moon is co-commissioned by a number of creative organisations brought together by Luke Jerram and Norfolk & Norwich Festival. These include At-Bristol, Kimmel Center, Lakes Alive, Provincial Domain Dommelhof, Brighton Festival, Greenwich+Docklands International Festival, Without Walls, Les Tombées de la Nuit, Rennes and Cork Midsummer Festival. The artwork has also been created in partnership with the UK Space Agency, University of Bristol, ArtScience Museum and The Association for Science and Discovery Centres. More information: https://my-moon.org/