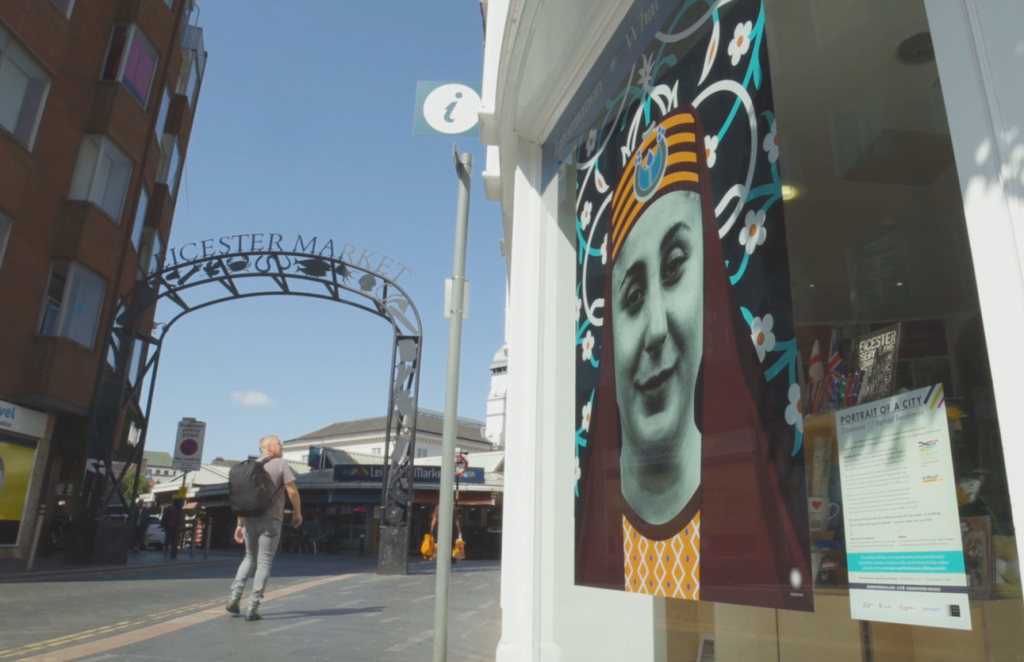 BID Leicester is pleased to be sponsoring Journeys Festival International Leicester, produced by ArtReach.
The festival will turn the city into a giant outdoor art gallery, thanks to funding from BID Leicester, The National Lottery Community Fund and support from Openreach. Residents will be able to see large-scale images of local people who work within the local community on prominent buildings including the Highcross, Curve Theatre, John Lewis and BBC Radio Leicester. Also, at street level, the artwork will take over a number of Openreach telecoms exchange points (green boxes) throughout the city centre.
Portrait of a City is combination of work from international artists, Farhad Berahman (Iran/UK) and Sibomana (Belgium/Italy). The portraits were captured here in Leicester, by Farhad Berahman (who also displayed his work, Stamps to Elsewhere at the Festival in 2018) and then crossed borders to the waiting hands of Sibomana who digitally enhanced the portraits to pick out and embellish key factors in each image. There is over 15 different locations across the city displaying the exhibition.
Simon, BID Leicester Director said, "BID Leicester is delighted to sponsor Portrait of a City, part of the 2019 Journeys Festival International. The incredibly talented artists will turn the city's streets into an art gallery that is accessible to all. The portraits on show emphasise diversity as one of Leicester's key strengths, and I encourage visitors in the city to look out for them all – as well as the rest of the JFI programme over the coming weeks."
One of the portraits features, Greek born, Leicester based artist, George Sfougaras. As well as featuring in this exhibition George has two other exhibitions running throughout the Festival. One of George's pieces can be sent in Leicester Cathedral and features the Bishop of Loughborough in a large scale artwork.
George said, 'It's fantastic to see big organisations supporting this type of project. Anything that can brighten up the city, encourage visitors and in turn spread learning about different cultures is obviously a good thing."
An established cultural event in the Leicester city calendar, Journeys Festival International strives to identify and exhibit the exceptional work and extraordinary talents of refugee and asylum seeker artists.
This large-scale outdoor exhibition can already be seen across the city and is just one of the many exhibitions that feature in this year's Festival. With a wealth of family friendly events, live performances and concerts, there really is something for everyone to enjoy at this year's festival.
To make your plans for the festival download your own copy of the full programme at www.journeysfestival.com/jfileics2019 or grab yourself a printed brochure from LCB Depot.