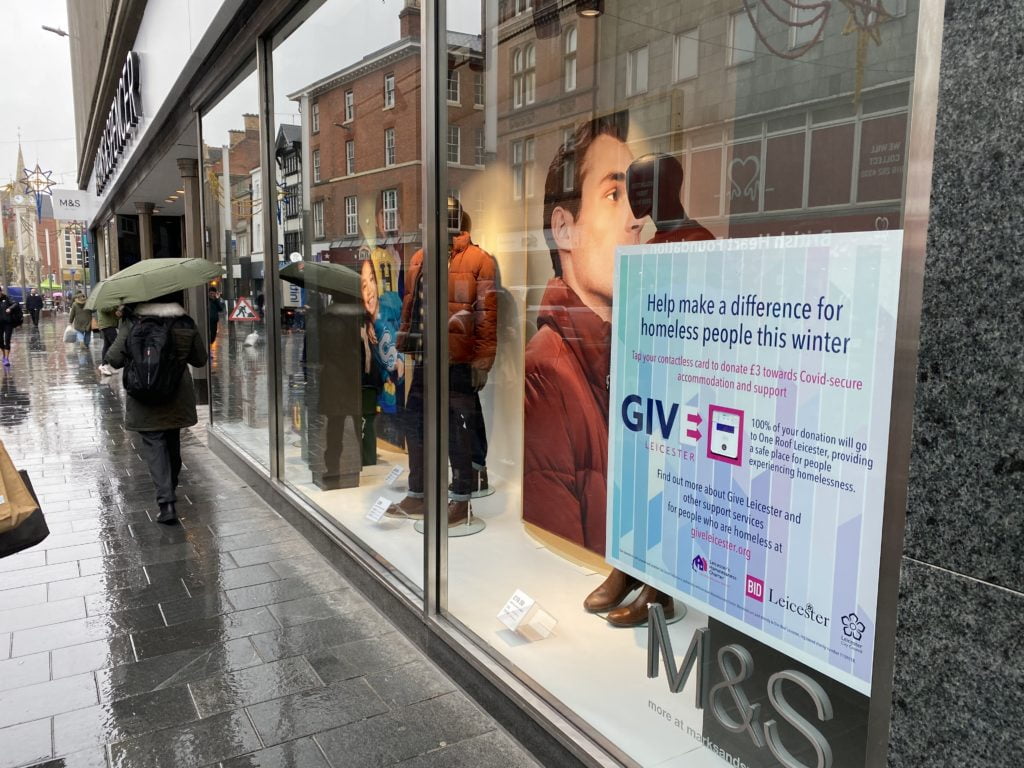 A campaign to help people who are homeless through contactless technology is now raising money to provide Covid-secure accommodation throughout the winter.
Give Leicester has raised over £25,000 to date in aid of the One Roof Leicester night shelter, but has now put a new focus on fundraising in order to address concerns facing the city's most vulnerable people in light of the coronavirus pandemic.
Give Leicester donation points are small, contactless terminals, which enable members of the public to make a £3 donation simply by tapping their card. The terminals are funded by BID Leicester and Leicester City Council in partnership with the Leicester Homelessness Charter. There are 15 donation points in the city placed in the windows of local businesses, 11 of which are in the city centre and four further afield. Over £10,000 of the fundraising total has been donated by members of the public through the contactless terminals.
However, this winter One Roof Leicester are unable to run their annual Winter Night Shelter in the same way due to social distancing requirements. Money raised through the terminals from 29 October will be used to provide a new form of Covid-secure emergency accommodation in the city.
Salma Ravat, Manager of One Roof Leicester, explains, "The Coronavirus pandemic has brought new challenges in providing secure accommodation during the cold, winter months, and hosting many guests in a shared space is no longer practical. This winter we will be using a network of separate housing units to ensure a safe environment for each guest we welcome. We will continue to support our guests as we did in the night shelter – they will be visited by our volunteer team and key workers to ensure they have everything they need, including hot food and advice to enable them to move on to permanent accommodation where possible."
One Roof Leicester work closely with key workers to help guests build a more stable life. This includes helping people to access housing advice, employability support and links to specialist counselling and treatment services as well as identifying suitable education or training courses. Last year's winter night shelter, which ran from October 2019 to March 2020, helped eight guests move off the streets and into permanent accommodation.
"Last year's Give Leicester campaign meant we could keep the shelter open for longer and help more people," said Salma. "We cannot thank the public enough for their support – every tap on a Give Leicester terminal helps make a difference to people's lives."
BID Leicester and Leicester City Council cover the card transaction costs of every donation made through contactless terminals, ensuring that 100% of the money donated by members of the public goes directly to One Roof Leicester to provide these life-changing services.
Simon Jenner, Director of BID Leicester, said, "We have been blown away by the success of the Give Leicester campaign and the generosity of the public over the last 12 months, raising a remarkable amount of money.
"This year has thrown up unexpected challenges for people in all walks of life. As a society we have been reminded of the importance of home, having a stable environment to live in and a network of people to support us. BID Leicester, along with our members who host the contactless giving terminals in their businesses, are proud to continue to support this campaign to help the most vulnerable people in our community."
Leicester City Mayor Sir Peter Soulsby said: "It seems like much longer than a year ago when the Give Leicester scheme was first launched. There was huge support for it then, and although we are in very different times now, I am sure the people of Leicester will want to show their support again, as much as they are able.
"During the pandemic, the city council has helped more than 500 people with accommodation, food and other supplies, ensuring that no-one has had to sleep rough in Leicester. Over the winter it is likely there will continue to be a great demand on our services, so the support of charities like One Roof, with the help of the Give Leicester scheme, will be vital."
Canon Alison Adams, Chair of Leicester's Homelessness Charter said: "2020 has shed a spotlight on how important stable accommodation, backed up by appropriate support networks, is for humans not only to survive but to flourish. Give Leicester enables you to contribute to this vital front-line support for those experiencing homelessness in our City."
Find out more about the Give Leicester donation points, a directory of services available to people who are homeless and information about the Leicester Homelessness Charter at giveleicester.org