The following resources have been compiled to help businesses reopen safely.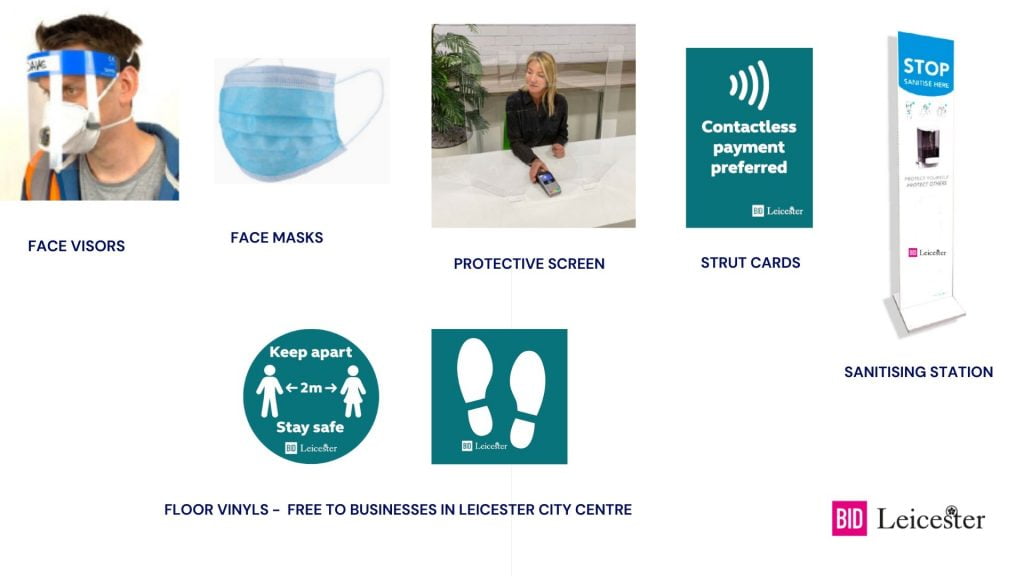 Risk Assessment template

Click here to download a template Risk Assessment, which you should complete before reopening your business. There is government HSE Guidance available to help you consider risks. Our checklist will help you consider issues and risks you may list on your Risk Assessment.

Business Reopening Checklist

Click here to download a checklist of issues you may need to consider before opening. A printed copy of this checklist will be delivered to city centre businesses by our Street Ambassador team in June 2020.

Signage & PPE

Free resources for businesses:
BID Leicester will provide printed copies of the Government recommended poster for your business for display, to demonstrate you have reopened in a responsible way.
BID Leicester will also provide a choice of floor vinyls – footsteps, and circular social distancing vinyls – for your business to use. The vinyls will stick to hard floor and short pile carpet, and are suitable for indoor and outdoor use.
A printed copy of the Businesses Reopening checklist (available to download above) will be provided
These items will be delivered to businesses by our Street Ambassador team – if you haven't received these or would like more stock, contact us: [email protected]
Further signage and PPE can be purchased through our recommended supplier, Blink Print. These items are available at a specially discounted rate negotiated by BID Leicester. Items available for purchase are:
PPE including face masks and visors
Hand sanitising units – suitable for indoor and outdoor use. Note: BID Leicester will provide sanitiser gel refills free of charge**
Strut cards for point of sale
Protective screens for point of sale and reception areas
See bidleicester.co.uk/reopening