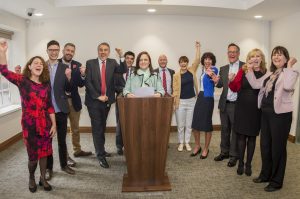 THE RESULT IS IN…
So after many months of events, surveys, workshops, visits, meetings and the 28 day ballot period, the result of the ballot for the Leicester city centre BID was declared on Friday 3rd November and we're pleased to report that the result demonstrated overwhelming support from city centre businesses for establishing the city's first BID:
The percentage of votes cast in favour was 85%
The percentage of rateable value in favour was 89%
The total number of ballots received represented a turnout of 40%.
For a developing BID this really is an impressive result, especially given the  number of hereditaments (businesses) in the BID Leicester area sits above the national average, and bodes well for the level of engagement the BID can hope to enjoy going forward.
As retailers build to the busiest period of the year we will be busy putting the groundwork in place to ensure we can hit the ground running when BID Leicester commences in Spring 2018.
Once again thank you to everyone that engaged throughout the BID development process – without your input we wouldn't be where we are today.
Here's to the next five years of collaboration and success for Leicester city centre!
The BID team
(If you would like to be added to the BID Leicester mailing list to be kept up-to-date with all things BID, please email [email protected]. Don't worry we won't share your details with anyone or spam you).