Get ready for a monstrously good time this October, as an unforgettable adventure is coming to Leicester! Brace yourselves for Leicester Monsters, a city-wide trail of giant, glowing monsters, who will be playfully peeking over buildings across the city centre from 16-31 October.
The massive monsters are created by artists Filthy Luker & Pedro Estrellas, the trail is presented by BID Leicester and has been made possible through support from Highcross Leicester and Leicester City Council.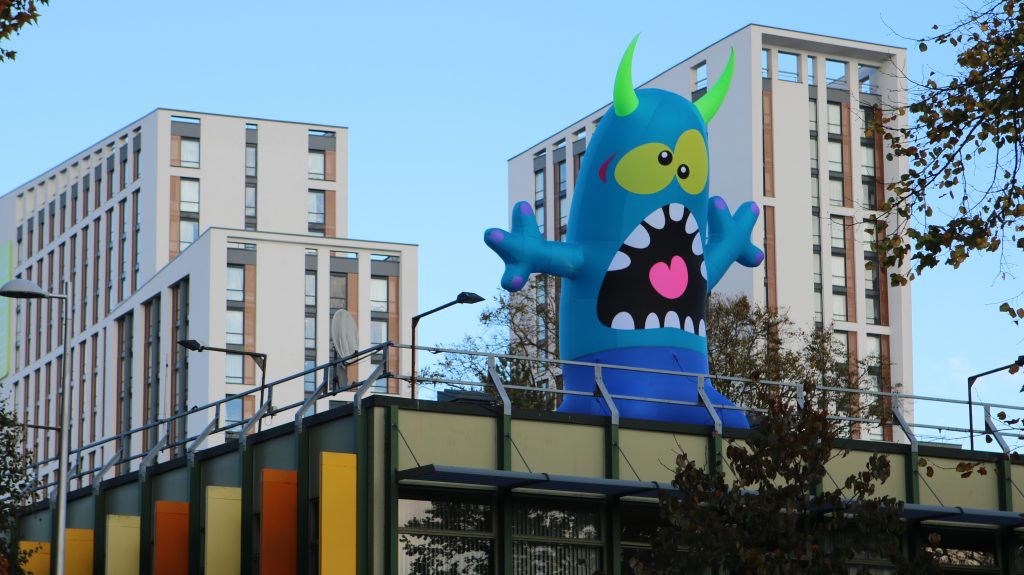 Monsters, magic, and marvel
Imagine mesmerizing monsters reaching their claws over rooftops, tentacles bursting wildly through windows, and illuminated spooky sights that will leave you in awe. And the best part, it's totally free! From picturesque New Walk to the historic Clocktower and beyond, Leicester's key locations will be magically illuminated by these quirky creatures.
There will be 8 playful monsters peeking curiously over buildings, forming a fun, free trail that is suitable for all ages.Grim Fingers' spooky jazz hands, Slime Minister's gooey charm, and Groaner's pun-filled humour – these monstrous friends are waiting to entertain you. Plus, don't miss the debut of an exclusive mega-monster, designed just for Leicester Monsters!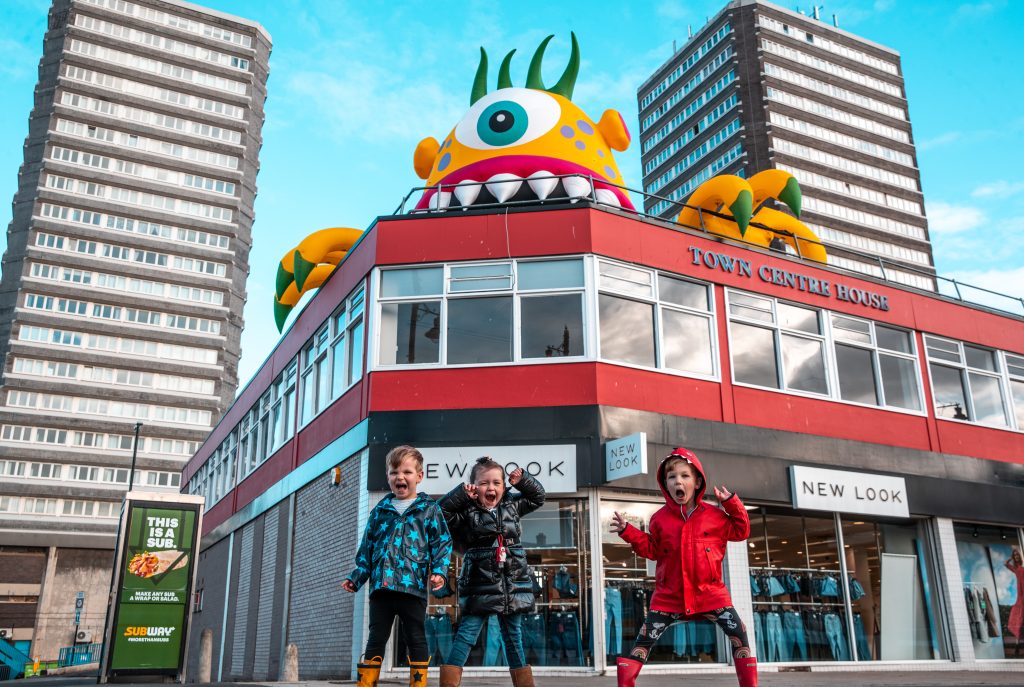 Halloween magic for all ages
If you're looking for family-friendly Halloween fun you are in luck, as the the Leicester Monsters trail is here to make October amazing. This fun-filled adventure is a perfect half-term activity or an alternative to Halloween trick-or-treating. It promises a wallet-friendly activity for the October half term and a family-friendly experience that's sure to captivate hearts and ignite imagination.
The trail is being brought to the city by BID Leicester, a not-for-profit organization funded by businesses in the city centre. BID Leicester has a history of igniting the city with creativity, having been the driving force behind numerous successful projects that enhance the city's vibrancy and appeal. The Leicester Monsters trail joins a sparkling lineup of projects presented by the BID, including the awe-inspiring Katena Luminarium, the mesmerizing Rhizome light installation, and the hugely popular Light Up Leicester festival.
Simon Jenner, Director of BID Leicester, said: "The Leicester Monsters trail is set to light up the city with wonder and excitement. It's an invitation for everyone to come together and celebrate the magic of Leicester's first-ever monster encounter. We're really excited to bring Filthy Luker's creations here to spice up this Halloween. There's no trick, it's a proper treat!"
The project has been made possible with support from Highcross Leicester and Leicester City Council. "We're very pleased to be working with BID Leicester to bring this brilliant event to the city centre during the run-up to Halloween," said deputy city mayor Cllr Adam Clarke.
"It's going to be a monster-size event for October half-term that local families and visitors alike won't want to miss."
Jo Tallack, General Manager at Highcross Leicester, also said: "We are thrilled to welcome the Leicester Monsters Trail to our vibrant city. This imaginative and captivating experience perfectly embodies the spirit of Leicester – creative, dynamic, and full of surprises. The trail will undoubtedly be a highlight for families, visitors, and the local community, offering a unique way to explore our iconic locations while enjoying the excitement of the spooky season."
"Highcross Leicester is excited to be a part of this city-wide adventure and to provide a platform for creativity and community engagement."
Find monster deals
Coinciding with the Leicester Monsters trail is another BID Leicester project: Leicester Restaurant Week, taking place from 16 October for one week. This initiative, also presented by BID Leicester, will see cafes and restaurants citywide offer special deals and menus, allowing visitors to enjoy a delightful meal after their monstrous adventure.
So, get ready to embark on a journey like no other from October 16 to 31! Gather your family, friends, and fellow adventurers, and prepare for an unforgettable experience.
To find out more, visit http://www.bidleicester.co.uk/leicester-monsters.