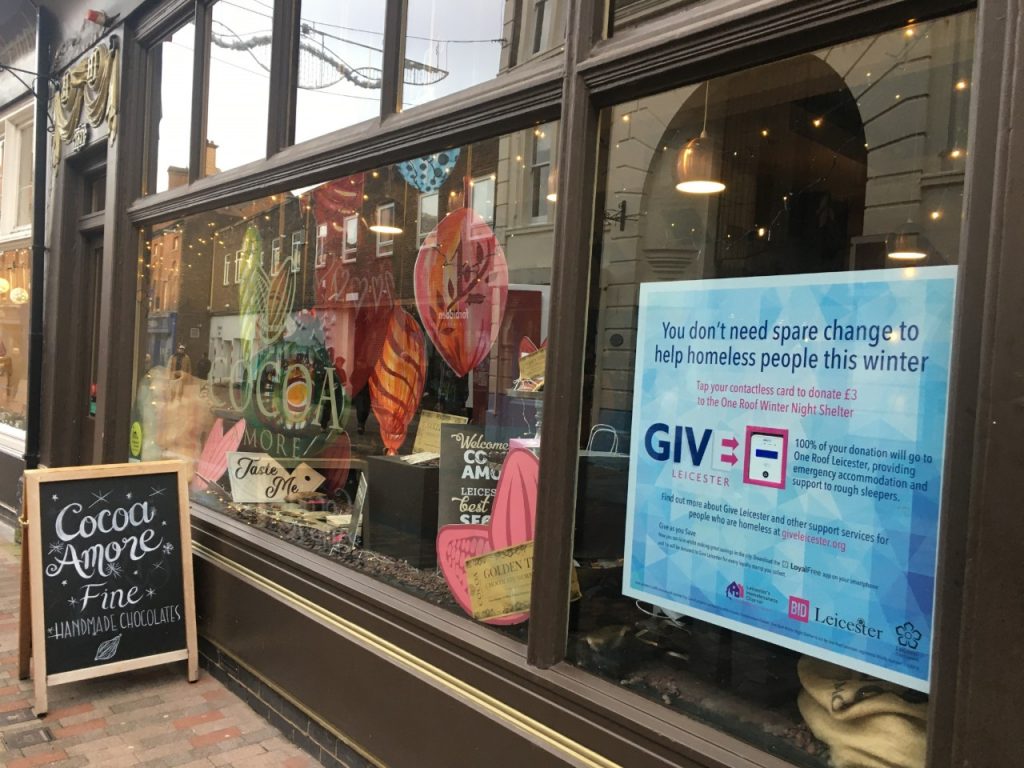 People wanting to donate at Give Leicester contactless donation points to help homeless people can now do so at six more locations in the city.
The new contactless donation points were launched on Wednesday 18 December, bringing the total number of giving points in the city to 15.
The new Give Leicester donation points are located at: The Exchange Bar, Baxter's Bakery on Queens Road, Cocoa Amore, Marks & Spencer and Shires Lane. A sixth point at University of Leicester Charles Wilson Building will be up and running for when students return from their Christmas break.
Give Leicester contactless donation points were first launched in the city in November, thanks to a partnership between BID Leicester, Leicester City Council and Leicester Homelessness Charter to help make giving to people who are homeless easy and secure.
Almost £2,700 has been raised by the public since the contactless donation points were launched, with BID Leicester and Leicester City Council covering all transaction costs to ensure that 100% of the money donated goes to the One Roof Winter Night Shelter.
The Give Leicester donation points are small, contactless terminals, which enable people to make a £3 donation simply by tapping their card or smartphone. Donations go to One Roof Winter Night Shelter, which provides additional emergency accommodation and food during the coldest months of the year.
In addition to the new locations, Give Leicester donation points can be found at Clockwise Credit Union on Jubilee Square, Greggs Gallowtree Gate, St Martin's Coffee, McDonalds East Gates, McDonalds Market Street, De Montfort University, De Montfort Hall and Knighton Library.
Simon Jenner, BID Leicester Director, said, "We're really proud of the Give Leicester initiative, which has already raised a significant amount of money to help vulnerable people on the streets of Leicester. Increasing the number of contactless giving points will allow even more people the opportunity to donate whilst being safe in the knowledge that 100% of their money is going to the Winter Night Shelter. I want to thank all the businesses who have agreed to host the contactless donation points – it's great to see businesses getting involved in a scheme that gives back to the local community."
McDonalds East Gates has been the most used giving point to date, raising £585. Angus Fraser, Franchise Owner at McDonalds, said, "It's fantastic to be able to work with BID Leicester and the Leicester Homelessness Charter to be involved in this scheme. The campaign has really resonated with local people and I'm proud that McDonalds customers have given generously in support of this cause."
As well as money donated by the public, the Give Leicester scheme has received a donation of £945 from Leicester-based company LoyalFree, and £6,408 from visitors to Museum of the Moon at Leicester Cathedral. This brings the campaign total to £10,045.
The public can continue to support the Winter Night Shelter as they shop locally by downloading the LoyalFree app – for every loyalty stamp collected, the company will donate 1p to the cause.
The Give Leicester initiative also supports a website listing over 75 organisations in the city that offer support services for homeless people in a bid to educate both vulnerable people and the wider public on the services already available in the city.
Find out more about the Give Leicester donation points, a directory of services available to people who are homeless and information about the Leicester Homelessness Charter at giveleicester.org