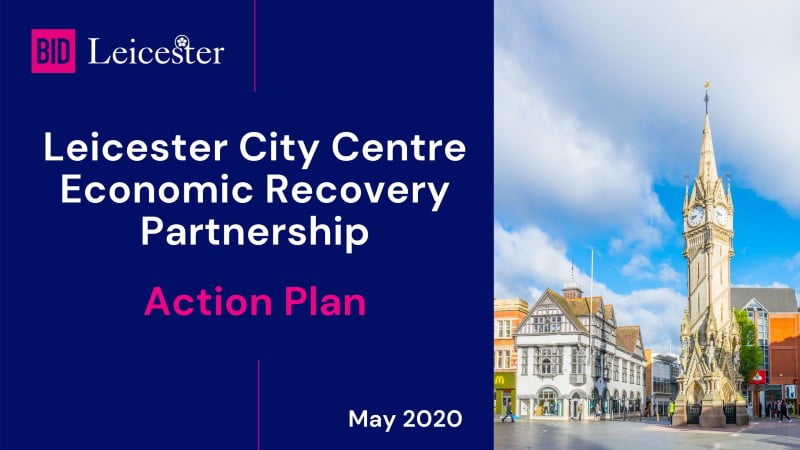 A new partnership of business leaders has been set up to drive Leicester city centre's economic recovery.
Led and funded by BID Leicester, the Leicester City Centre Economic Recovery Partnership will support businesses in adapting to a new way of working following the Covid-19 outbreak, promoting a safe exit from lockdown and identifying the next steps required to shape the long-term recovery of the city centre.
Their objectives include creating an action-focused partnership to help the city centre thrive; generating new and innovative ideas for the future success of the city; strengthening communications between sectors and shaping positive perceptions of Leicester city centre.
The group – which had its first virtual meeting on 12 May – has members from 12 city centre businesses who will help to develop recovery plans, including Highcross Leicester, Haymarket Shopping Centre, St Martin's Square, John Lewis, Cocoa Amore, Steamin' Billy, Curve, Mattioli Woods, De Montfort University, University of Leicester, Leicester City Council and Leicestershire Police.
Simon Jenner, BID Leicester Director and Chair of the Leicester City Centre Economic Recovery Partnership, said, "BID Leicester is committed to supporting our businesses reopen and recover from the unprecedented impact of Covid-19. It is crucially important that we work to ensure good practice and clear messaging so that people using the city centre understand how to comply with social distancing guidance and we are able to provide a safe, enjoyable and stress-free experience for all."
An action plan for the group has been published, with initial measures to support businesses that include supplying signage and posters encouraging social distancing and handwashing guidance.
A list of quality assured and competitively priced products will be made available to city centre businesses including signage, floor stickers, personal protective equipment (PPE) and hand sanitising units.
A communications campaign will be developed to highlight how the city's businesses have adapted to be safe for the public to return.
Following the reopening of businesses, a longer-term recovery plan for the city centre will see the launch of initiatives encouraging public confidence, promoting businesses and making the environment safe and attractive.
The work of the partnership will complement a wider operational recovery plan for the city implemented by Leicester City Council.
Jo Tallack, General Manager of Highcross Leicester, said, "There are a number of challenges when it comes to re-opening, and one of the most important of those is making sure consumers feel safe. The Leicester City Centre Economic Recovery Partnership will help us share knowledge and best practice, and will be an invaluable tool as we welcome people back to the city centre. It's going to be tough, but by working together we're confident we can get Leicester back on its feet."
Ian Mattioli MBE, Chief Executive Officer of Mattioli Woods and member of the partnership, said, "I am delighted to be representing Mattioli Woods in this new partnership. Our business and staff have made the city centre their home since moving into our New Walk Place offices in 2018. The group is committed to working collaboratively to develop a plan that is not just about getting back to how we were, it is about how we recover to retain the best practices of where we were, whilst we use the new ways of working that will make us better and stronger than before."
The group will be supported by BID Leicester, who will lead on implementing and funding measures identified by the partnership.
More information for businesses will be posted on bidleicester.co.uk before the end of May.