BID Leicester has won the Special Recognition award for the St. George's Tower mural at the British BIDs National BID Awards.
BID Leicester celebrated a coveted award win and national recognition at British BID's National BID Awards, for the delivery of the St. George's Tower mural in 2022.
The highly acclaimed awards showcase BID projects from across the UK, with particular emphasis on the positive impact of each project and what it achieves for businesses in the BID area. In a category with exceptional competition, the record-breaking St. George's Tower mural shone through as the winner of the 'Special Recognition' award, chosen for its creativity, impact in changing perceptions of the city centre and ambition.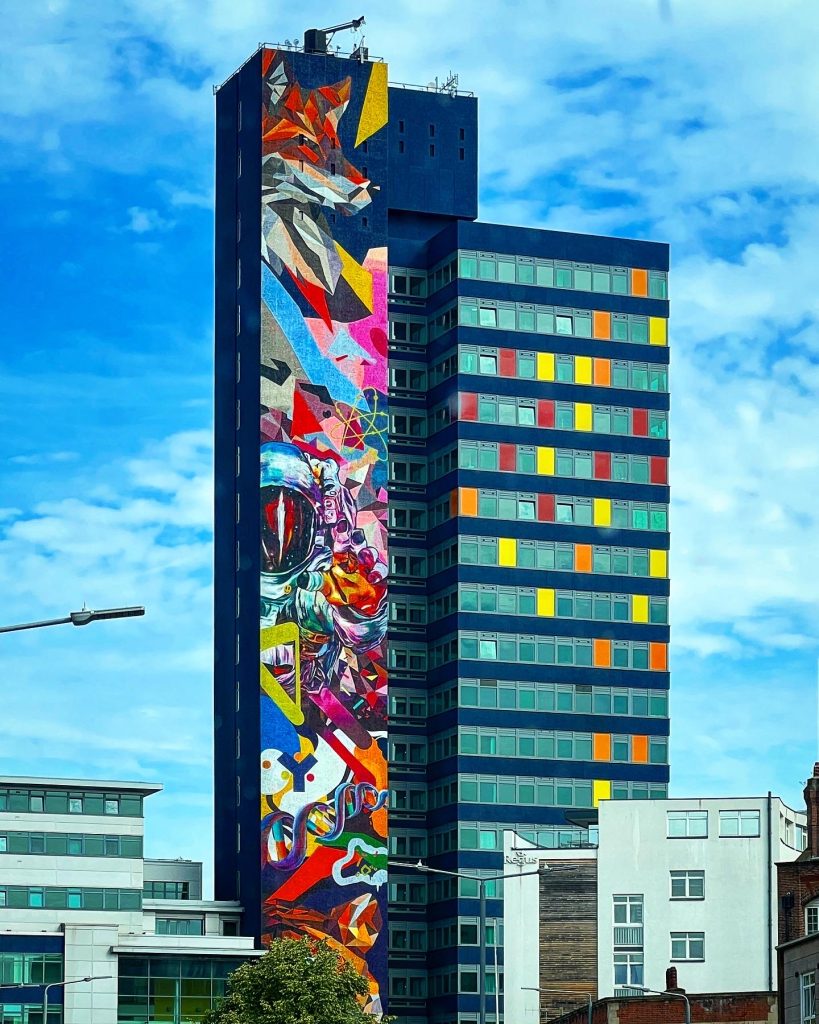 The St. George's Tower artwork is a sky-scraping mural, standing at an impressive 82 metres tall and painted by a team of 5 Leicester-based artists between 13 June to 22 July 2022. The project, funded by BID Leicester, has been developed alongside Leicester-based arts organisation Graffwerk, which has been involved in the project from conception to delivery.
The artwork itself incorporates vibrant colours, bold graphic elements, and visual themes that meaningfully represent various aspects of Leicester's unique heritage and culture. For example, at the top of the tower, which is visible at many locations within the city centre and at viewpoints much further afield, is the profile of a fox – an iconic emblem of Leicester and its iconic 'Foxes' football team. Further down the tower, an astronaut with an outreached hand can be seen in striking clarity and detail, representing Leicester as the home of the National Space Centre and a world leader in space research. The piece also features a strand of DNA, alluding to the University of Leicester's discovery of the technique of DNA fingerprinting and, more recently, to the identification of the bones of Richard III. At the bottom of the mural, viewers can find a colourful tiger, representing the world-famous Leicester Tigers rugby union club.
Evolving over three years of planning and securing permissions, the project has seen the transformation of one of Leicester's most controversial buildings, an iconic but contentious landmark which has been described as unsightly by many, into a beacon of civic creativity, ambition, and pride.
Witha 1 0 year lifespan, the mural will be seen by millions and has played a key part in creating a perception of Leicester as a destination for street art. The project has received widespread press coverage, including printed press, TV coverage and radio airtime locally, nationally, and internationally. The Guardian wrote two pieces about the project; one focused on Leicester's growing reputation as a destination for street art. Other coverage also included ZTV Germany, Elle Décor Italy, East Midlands Today, Central News and BBC Online.