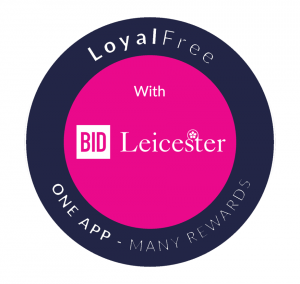 BID Leicester is excited to announce it is partnering with LoyalFree!
LoyalFree, which is entirely self-funded, is an innovative digital loyalty scheme which helps businesses attract new customers via a profile showcasing their offers, reviews, images and more. It pulls together all the vital information for an area, allowing users to benefit from using just one app for the whole of the UK.
DMU graduate Jason Nesbitt and Loughborough High School alumni Sophie Hainsworth – founders of multi-award winning phone app – founded LoyalFree nearly two years ago from a coffee shop in Edinburgh with the intention of boosting business for shops across the UK through an online loyalty scheme. And following a period of incredible growth, in particular with partners Loughborough BID and Harborough District Council, the two have now joined forces with BID Leicester to support the city where they grew up. With thousands of existing users, the partnership is anticipated to grow at an incredible pace.
Lisa Brown, BID Manager at Love Loughborough, said: 'The businesses and customers love it. It has been more successful than we ever imagined.'
The partnership launches as part of our 'First 100 Days' campaign which sees many new initiatives, such as the introduction of a team of Street Ambassadors and closer working with the established night time economy, introduced in the city as BID Leicester begins its five year term.
The new partnership means BID levy paying businesses will gain from advertising in the local area, customer insights and social media support. A local guide will also help visitors with vital tourism information while an events section will showcase activities in the city. Businesses already on board include St Martin's Coffee, Set and Bruxelles.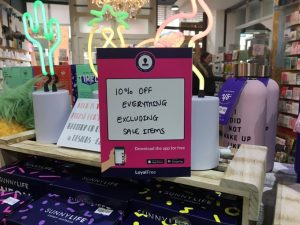 Gary Rowntree, BID Leicester Chair manager added: 'This partnership gives BID Leicester the opportunity to increase footfall and encourage shopping locally in the area. We are looking forward to the benefits it will bring to the City.'
If you're a BID levy payer in Leicester please email [email protected] for details of how you can get involved in the scheme.
If you're a resident of, or visitor to, the city then click here to download the app for free and start saving money at local businesses: www.loyalfree.co.uk/download.